I currently teach in the University of Maine's Digital Curation graduate program and Dartmouth's Film and Media Studies department.
At UMaine, I generally teach two courses: Metadata Systems and Digital Collections & Exhibitions.
DIG510: Metadata Systems (syllabus on GitHub)
DIG540: Digital Collections and Exhibitions (syllabus on GitHub)
At Dartmouth, I teach Introduction to Digital Arts and Culture (syllabus).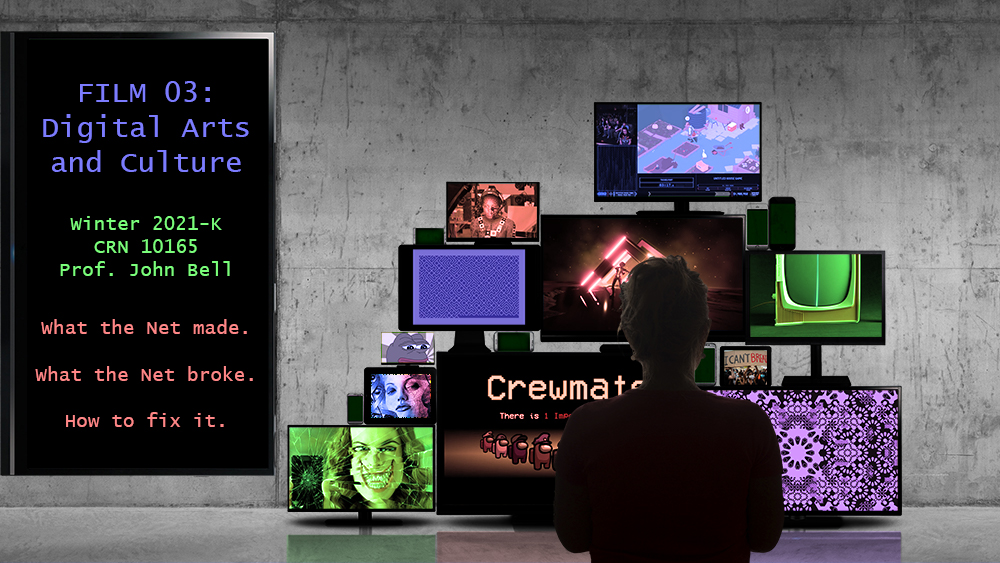 In addition to the courses I currently teach, I have designed/taught:
Undergraduate
Design Patterns for New Media
Introduction to Dynamic Web Content (PHP)
Introduction to Programming in Javascript: Script Your World
Fundamentals of Information Systems (TA) (Processing, Max/MSP)
Introduction to New Media Technology (TA) (Scratch, Processing)
Introduction to Problem Solving Using Computer Programming (TA) (Python)
Graduate
Intermedia Research Studio II: Projects in Collaborative Production
Type and Text in Art
Metadata Systems for Digital Curation
Digital Collections and Exhibitions
Social Media I & II (1cr. each)
Networked Workflows (1cr.)
Web Application Design (1cr.) (PHP)
Dynamic Web Programming I & II (1cr. each) (PHP)
Relational Databases (1cr.) (MySQL)
What Students Say:
Best professor I have had so far. Professor Bell was really knowledgeable in some very niche topics and was able to share personal experiences/ expertise. I found his knowledge super fascinating and I hope Dartmouth continues to give him the tools to teach us topics that will relate with our future. I believe some of these industries that haven't even become fully formulated yet will be super important to be ahead of for any student. Professor Bell's curriculum felt very forward thinking and I'm sure I will look back very fondly at my experience with this class.
He was very understanding and kind. The students could tell he was genuinely interested in what he was teaching and everyone could tell he knew every single concept very well. I remember I asked a very random question I saw on the news and I expected him to have no prior knowledge of it. He quickly answered my question with specificity. I was truly impressed. Professor Bell is a brilliant man in his field.
1) Professor Bell did a great job overseeing the class discussions. He would always interject with a question when the conversation was slowing down and knew when to let us ramble on. 2) Core concepts were very well explained. Professor Bell did a great job simplifying really difficult concepts for us to understand. 3) Professor Bell brought in really great guest speakers and did a good job interviewing them/allowing them to explain key concepts.
I had the opportunity to meet with Professor Bell one-on-one a few times and we had some really fascinating discussions that I couldn't have had with anyone else. He recommended several books and articles that I would read/ research alongside our curriculum.
I LOVEEEEED this class. I would have never expected myself to be interested in such crazy topics, such as augmented and virtual reality. I wish more students took this class. This course taught me there's more to art than just classic art paintings. It really opened me up to a whole range of cool concepts, such as BASIC. I can't express this enough… this class truly taught me topics/concepts I had never expected to learn. I will definitely tell more students to take this class with Professor Bell. I genuinely loved this class. I'm extremely sad I won't be taking this class in the spring.